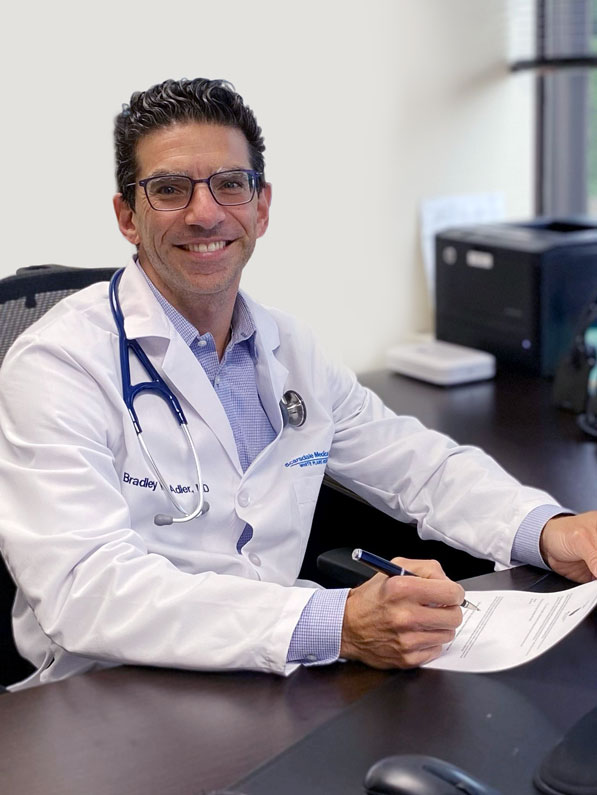 Dr. Adler's well-balanced approach:
A gifted communicator who takes the time to listen
Friendly, relaxed style grounded in two decades of clinical experience
An integrated focus on physical and mental wellness
Holistic emphasis, motivating and inspiring a healthy lifestyle
What is Concierge Medicine?
In a concierge, or membership, medicine practice, the doctor makes a commitment to limit the number of patients to ensure adequate time and availability for each patient, and to provide an enhanced level of care.
Extended, unrushed visits enable physicians to spend meaningful time with patients, build relationships, and provide more comprehensive, proactive care than in traditional practices. To make this possible, the patient pays an annual fee.
Enhanced communications
Little or no office waiting room time, and longer appointments
Extended office hours
Strong focus on preventive medicine and long-term health and wellness
Personalized hospital care
Adult dependent children of members are welcome
Long distance care
Care for visiting relatives and/or friends
A caring and compassionate listener. Thorough examinations, and he and invests real time in you to resolve any medical issues or assure good health. All, sadly, something you don't find in the medical field anymore. Highly recommended.
Dr. Adler is thoughtful, attentive, honest, and very knowledgeable. He is the best PCP I have ever had. His staff is similarly attentive, cordial, and professional. Moreover, the practice has resources and capacity to address various issues and needs.
Dr Adler is best Dr. out there ! I have many health conditions and Dr Adler treats me like any other person! Not like a new science project to explore. Very compassionate understanding. And takes his time with you . Nothing but good things to say about Dr Adler.
You will not find a more dedicated physician than Dr. Adler. He is thorough, smart, and empathetic. He has an understanding of the relationship between the mind and body. Dr. Adler offers easy to follow advice. Dr. Adler takes the time to make patients feel like their concerns are being addressed. He is also a kind human being.
Dr. Adler is attentive, relatable, and thorough. I couldn't recommend anyone more.
Excellent, caring physician!
I highly recommend!
We are very happy and fully satisfied patients of Dr. Adler. His unique practice model is perfect for our family healthcare needs, and we consider ourselves very fortunate to have found him.
Dr. Bradley Adler has been my primary care physician for over 20 years. He is a smart caring doctor who recently took care of an infection I had with careful diagnosis and remedy.
Very caring Dr. and stuff. I for one am happy to have them in my life.
Great doctor, helpful and pleasant staff, nice office, prompt attention.